Brazilian Music: Uaná Duo (2008 – 2012)
Brazilian Music: Akel (2011)
Instrumental Rock: Masks, Devas and Aliens (2010)
Jazz, Brazilian and Classical: Lylium Guitar Duo (2009 – 2011)
Electronic Music: Selene (2005 – 2007)
Brazilian Pop Rock: Hey Hey Jump (1999-2006)
Brazilian Music: Uaná Duo (2008 – 2012)
Uaná Duo is an acoustic project which brings Ian Costabile on guitars and Raquel Costabile on vocals, violins, recorders and percussions. Uaná means firefly in the language of Brazilian natives (Tupi-Guarani) and have been chosen by the duo as their own song's lyrics are inspired by Brazilian folklore.
In Liverpool (UK) they have played weekly at Magnet Bar and at Blackburne Arms Hotel in 2009. In 2010 they performed at Mello Mello Bar and in many private events around the UK's North West.
In 2011 and 2012 they played weekly at Bem Brasil in Liverpool and Manchester.
Their repertoire includes a huge selection of Brazilian music styles, such as Bossa Nova, Samba, Choro and Lambada.
Brazilian Music: Akel (2011)

Akel was a band created in 2011 as an extension of the Uaná Duo. Formed by Brazilian and British musicians, its music style has approached Samba Funk, Axé and some new experiments that mix Brazilian music with Irish folk music. Akel's original songs have lyrics about Brazilian folklore and nature. The band's biggest live performance was in the Summer of 2011 in Liverpool's City Centre, at the Brazilica Carnival.
Music, electric-guitar and lyrics: Ian Costabile
Vocals: Raquel Costabile
Music, electric-guitar and lyrics: Ian Costabile
Vocals: Raquel Costabile

Instrumental Rock: Masks, Devas and Aliens (2010)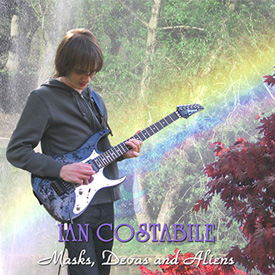 In 2009 Ian started to compose and produce his own electric guitar solo project called "Masks, Devas and Aliens" and he released the album free for share on the internet (licensed by Creative Commons) in July of 2010. It contains 7 original songs which have been inspired by different mythologies. Below you can listen to some recordings but if you want to listen to the full album you can download it in mp3: Masks, Devas and Aliens


Jazz, Brazilian and Classical: Lylium Guitar Duo (2009 – 2011)

Between 2009 and 2011 Ian joined Debora Schneider in a guitar duo. Their repertoire was a variety of Latin, Jazz and Classical Music, including bossa nova, new flamenco, gypsy jazz, nocturnes and classical duets.
The following recordings were made in Liverpool in 2010.


Electronic Music: Selene (2005 – 2007)

Selene was an electronic music project influenced by trance music and it was formed by Ian Costabile (electric guitar), Guilherme Picolo (bass guitar), and Kyle Sands (keyboards and synthesizers). The concept was to make people dance while at the same time enjoy an electronic music set with real instruments and non-conventional harmonies.


Brazilian Pop Rock: Hey Hey Jump (1999 – 2006)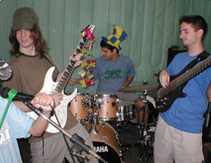 Hey Hey Jump was a pop/rock Brazilian band, in which the vocalist was only a kid (singing from his 6 years old to 13). Ian produced the albums and played guitar in the band. They performed in Brazilian radio and national television.