TriplePlay Fishman Interactive Patch (Cycling '74 Max Patch)

I made this to interface the TriplePlay MIDI hexaphonic pickup with Max so it can generate visuals according to the note position on the freatboard. Download it here.
Lyra Multichannel Player
This software is a free music/audio player which can support up to 16 channels (I/O). There is a mixer for each channel and a matrix in which the users can route the channels as they want. It supports audio input (microphone or audio in) and playlist.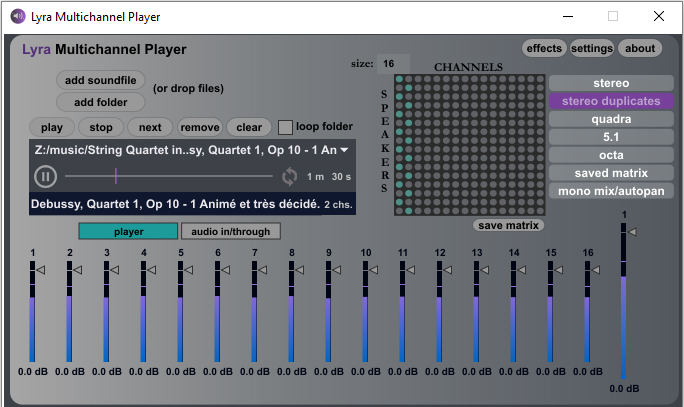 Applications:
• Multichannel sound reproduction (it can load .wav or .aiff files containing up to 16 tracks, such as quadraphonic or 5.1 music).
• Audio routing (it can send audio to different speakers).
• Stereo converter (for instance, it's possible to duplicate stereo sound coming from YouTube* and play it in a 5.1 surround system).
• Multichannel Autopan (it's possible to rotate sound between speakers) and other multichannel FX.
Free Software
(no ads, no installation is necessary, completely free)
Download Lyra Multichannel Player for Windows (v 2.1) – 16mb(for the Windows version it's also necessary to install the Visual C++ Redistributable Packages for Visual Studio 2013 and Visual C++ Redistributable Packages for Visual Studio 2015 (note: you must install these two versions otherwise the program will not work)
* To play sound from from your browser (such as when using YouTube) or any other program, it's necessary to route the sound to this player. For this, it's possible to use Virtual Audio Cable (shareware) or JACK Audio Connection Kit. Then it's necessary to set the correct driver (settings) and the player to "audio in" mode.
Spectrum Designer
Spectrum Designer is a standalone synthesiser based on additive synthesis. It was developed mainly for the creation and study of static tones (timbres with no envelope characteristics). It is possible to draw partials (through oscillations of sine waves or of a resonance bandwidth) in three different areas: consecutive, harmonic and wide.
The consecutive area processes frequencies in consecutive order, so for example, if you have 9 partials you may have the following frequencies: 100 Hz, 101 Hz, 102 Hz, 103 Hz, etc. Moving the "expand" bar, these frequencies are multiplied, thus they can be spread apart. For instance, multiplying the previous example by 10 the result is: 110 Hz, 120 Hz, 130 Hz, 140 Hz, etc.
The harmonic area is the most used area for the reproduction of common sounds, such as voices, flutes or string instruments. This area allows the user to work with 9 or 18 harmonics and it can also be expanded, for example, it is possible to have up to 36 partials (equally divided) inside 9 harmonics.
The wide area allows the user to divide frequencies in a wide spectrum, such as having frequencies from 200 Hz to 20 000 Hz.
The spectrum areas can be used with 2 simultaneous oscillators. The first oscillator has a limit of up to 200 partials (72 for the harmonic area) and can load sine waves or a resonance bandwidth. The second oscillator was designed for adding noise to the tone, so it can be only used with 9 partials.
Other features are:
• Spectrum visualisation in the main interface
• LFO
• Presets (Save and Load)
• Supports MIDI Controllers
2016 UPDATE: UNFORTUNATELY SPECTRUM DESIGNER HAS BEEN DISCONTINUED AND DOWNLOAD IS NO LONGER AVAILABLE.
Multilingual Audio Reader
This free webtool was developed for creating multilanguage audio glossaries.
The Multilingual Audio Reader is still in its initial phase (1.1). It uses Google's new text-to-speech technology with Web Speech Api – HTML 5, the same audio from Google Translate, which has been incorporated to Google Chrome and soon will also be available in all other browsers.
The Multilingual Audio Reader can be accessed on:
Multilingual Audio Reader
artlyra.com/multilingualaudioreader
(use Google Chrome otherwise it may not work)